Our latest picture of our community.
Back row Left to right Sisters Frances, Patricia, Karen, Barbara, Mary Frances, Etta, Miriam and Kathi(postulant)
First row, Left to right Sisters Nelia, Donna, Natalie (seated), Agnes and Florence.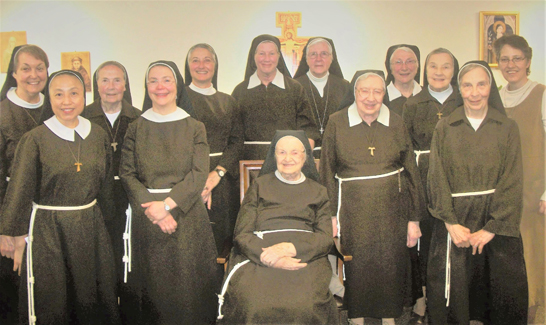 We, the Poor Clares of Chesterfield, New Jersey, as daughters of Clare and Francis, joyfully embrace the Gospel Way of life.
Aware of the call to ongoing surrender and conversion, we seek the Holy Spirit's guidance in prayer and sacrifice as we hold the Church and the World in our hearts.
By nurturing a contemplative atmosphere in our community, we hope to mirror God's abiding presence and love for all people."We will go to the House of the Lord" Psalm 122
If you have a Prayer Intention, send your request to Sister Florence: fjvalesosc@hotmail.com.
Visit our Picasa Web Albums and our blog Monastery Happenings at http://monasteryhappenings.blogspot.com/
Prayer of Saint Francis before the Crucifix at San Damiano
Most high, glorious God,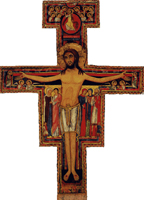 enlighten the darkness of my heart.
and give me, Lord,
a true faith,
a certain hope,
a perfect charity,
sense and knowledge,
so that I may carry out your holy and true will.
Our elections for Abbess , vicaress and council member was on March 17, 2015.  Sister Etta, center, was elected Abbess of the Monastery. Sister Miriam , far left, was elected vicaress and Sister Barbara, far right, was elected council member.  Congratulations to them and may God be with them as they lead and guide us.