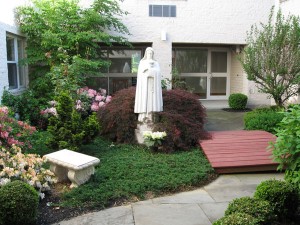 We are a vibrant and hope-filled community of 15 women from various backgrounds and experiences. We believe that our calling to be intercessors for the World through prayer is as relevant today as it was when Saint Clare started her contemplative community. Our greatest desire is to pass on the tradition of Saint Clare's Gospel Way of life.
Our Community is a group of women from all over the United States: New York, New Jersey, Kansas, Pennsylvania, Ohio. We come from different regions and are united in one purpose: to Love God and others and the whole world. We love through our life of prayer and sacrifice.
The monastery is the setting of our contemplative life and is the dimension of our life that is the privileged place of that activity which we call contemplation. Our monastery is not "apart " from the Church; rather, it is our part in the Church. It places us in the heart of the world. It is within the proper distance and the proper closeness of the cloister that we can find God for others that will become a reality for the good of the Church and the world of today.